In today's blog, let's break down the GROW coaching Model! We'll discuss the why, what and how of this awesome beginner-friendly model.
---
✨✨ And I have something special for you. A GROW model coaching guide so you can start experimenting with this coaching model. It's waiting for you at the end of the post. ✨✨
---
If you'd rather watch a video than read, you can check out my Youtube video on this topic:
Coaching Models
A coaching model offers a structure for the coaching conversation. It's the only structure the coach brings. Everything else is driven by the coachee and the coach adapts accordingly.
Every coach follows a model and eventually you will likely develop your own. But the key thing to remember here is that coaching always has a structure. Otherwise, it's just a conversation. Make GROW the structure you use and watch the magic take place.
The GROW Model
The GROW coaching model was designed by Sir John Whitmore in 1992. It goes beyond mentoring and was the first highly adaptive and scalable coaching framework.
This was the first model I personally worked with and think it's a safe path for any beginner coach. GROW is simple, accessible, and problem-solving oriented.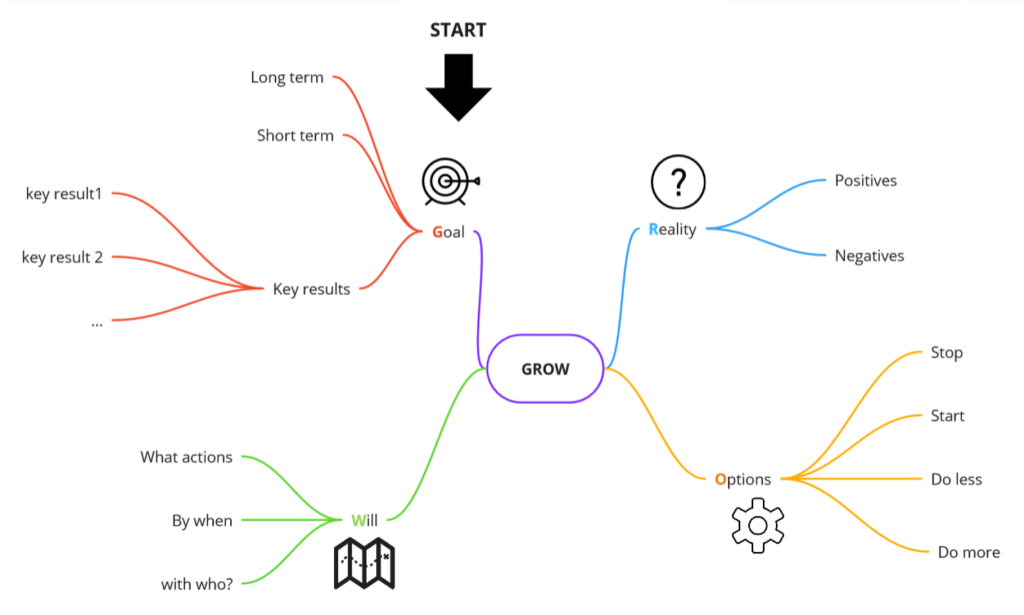 It has 4 major sections that move in a clockwise direction: Goal, Reality, Options and Will (sometimes also called Way Forward).
It can also be used in mentoring and for solving problems alone. I appreciate that it guides you into formulating the pace and appropriate coaching questions. It is an objective model that helps beginners avoid mistakes, while still having high potential for success.
G is for Goal
In the Grow coaching model, you start with the end in mind (aka your goal). You want to try to not get consumed by the problem and use perspective. Sometimes the obvious problem in front of us isn't what really needs to be addressed. Look at the short term and long term to be clear on what the key results should be before asking anything else.
Ask:
What are you trying to achieve?
What is your number one goal?
What do you want to see happening?
R is for Reality
Next, you are going to want to have the coachee understand what the reality of the moment is. Avoid spiraling down on the problem and instead try to understand the positives and the negatives. What is real vs what are assumptions? It's beyond a gap analysis.
Ask:
What is happening?
How does this impact you and your work?
What obstacles are stopping you?
O is for Options
Now that your coachee has a good sense of the reality of the situation, you want them to start brainstorming and seeing all the potential options and scouting for resources. You want unconstrained thought here. Don't filter anything!
Ask:
What are your options?
What has worked in the past?
Who could you ask for support?
W is for Will
The next step is all about finding the way forward. It is the time to filter our options. You want to go where the energy and willingness to move forward is. This final part of any coaching conversation should be spent co-creating an action plan and defining what exactly your coachee is accountable for.
Ask:
What are you going to do?
When will you begin?
How will you measure progress?
Going Forward
Although GROW is a beginner-friendly coaching model, you will notice over time you can make it more powerful by developing other skills:
#1 The quality of your questions
Not all questions are created equal. There is such a thing as powerful questions and higher quality questions yield deeper insights.
#2 What you listen for
Improving your listening is another amazing coaching skill that helps GROW better teams. When you pay attention to verbal and non-verbal cue, better questions naturally emerge.
#3 Your confidence in the process
The more confident you are, the less you act, interrupt en the better you use other skills into your coaching. But you know what I say confidence comes from competence. So it is normal to hesitate as you start.
#4 Partnering and the space
A much less discussed and yet so important part of coaching is the coach's ability to create a safe space for the coachee and respond to where they want to take the conversation. The coach offers the process. In this case, GROW and other skills, but it's the coachee who is in the driver's seat.
Now it's your turn to GROW
I hope this article helped you get acquainted with the GROW coaching model.
If it got you excited, you'll love what comes next: to help you get started or a bit closer to that skill and confidence as a coach, go grab my FREE guide below! 👇
Get more questions and more insights on how to make GROW work for you and your team(s).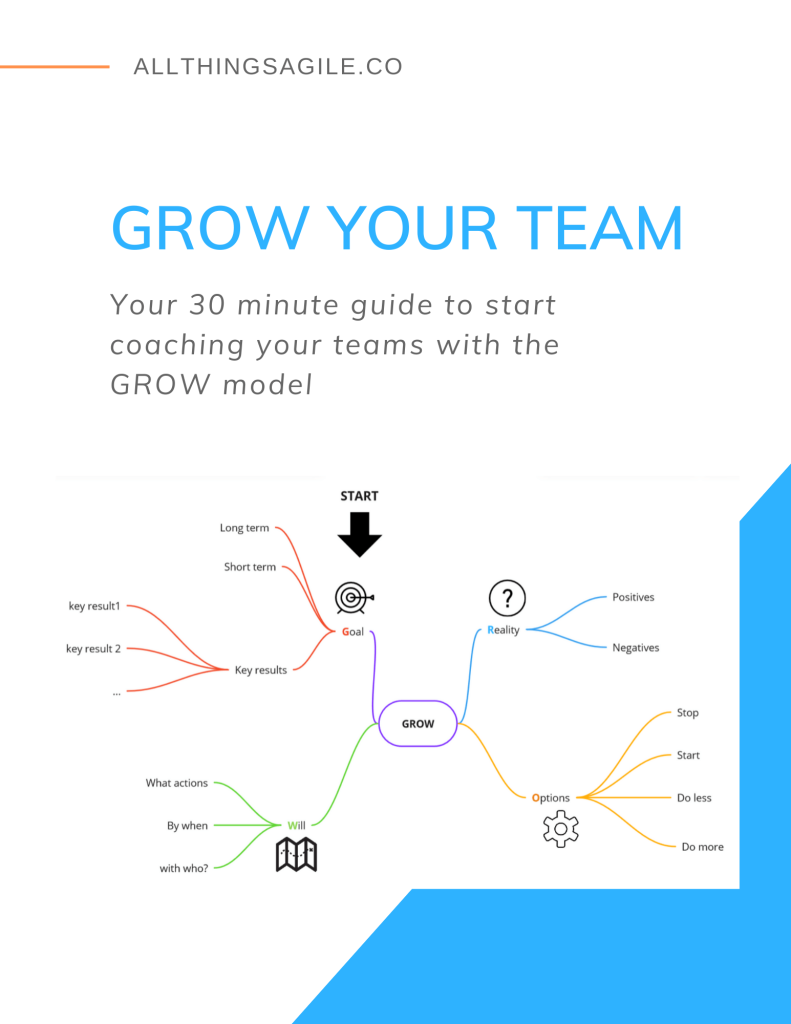 GROW Your Team
Your 30 minute guide to start coaching your teams using the GROW model!